News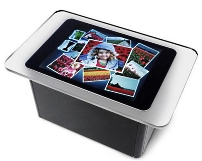 Microsoft's table-sized tablet Surfaces for pre-order
Almost a year after being demoed at the Consumer Electronics Show, Microsoft's next-generation Surface hardware is almost ready for customers. The giant, table-sized tablet, also wall-mountable, can now be pre-ordered from Samsung resellers in 23 countries, including the United States. Its release is slated for sometime in early 2012, Microsoft and Samsung said.
With a reported price of around $8,400, the Surface—or "Samsung SUR40 for Microsoft Surface" as it's being called—is targeted at businesses and large organizations. Dassault Aviation, Fujifilm, and Royal Bank of Canada are planning to deploy some of the first units. Navigating to the pre-order page doesn't give you the option to drag SUR40 into an online shopping cart. Instead, prospective customers are given the phone numbers and e-mail addresses of Samsung representatives in each of the 23 countries in which the supersized device will be sold.
Running Windows 7 and Surface 2.0 software, SUR40 has a 40-inch screen measured diagonally, 1,920 X 1,080 resolution, a contrast ratio of 2,000:1, an AMD GPU along with 2.9GHz Athlon X2 dual-core processors, 320GB of storage, and 4GB of memory. Ports include Ethernet, HDMI, and 4 USB 2.0 ports.
The original Surface came out in 2008, well before Apple's iPad made multi-touch tablets commonplace. But Surface aims for an entirely different market, while taking both size and multi-touch to the extreme. Surface has more than 50 simultaneous touch points enabled by PixelSense, which "allows an LCD display to recognize fingers, hands, and objects placed on the screen." The new hardware is just 4 inches thick, about half the previous thickness, and it is "touch-enabled from start to finish," meaning no keyboard and mouse are needed for setup and configuration, according to Microsoft.
The Surface 2.0 SDK and runtime has been available for months, letting developers create applications for the device. Microsoft predicts use cases will span the automotive, education, finance, healthcare, hospitality, retail, and other industries. Although Surface looks to be just about the right size for a living room, Microsoft is clearly positioning the hardware as a business tool rather than a consumer one, in both price and functionality. Separately, Microsoft researchers are working on ways to turn any arbitrary surface into a touchscreen, although it's not clear when or if such technology would become commercially available.
The Surface, at least the original version, is already being used by the Hard Rock Cafe in Las Vegas and other cities, Microsoft Retail Stores, the Sheraton Hotel chain, MSNBC, Disney, and others. Microsoft is clearly hoping that other industries see Surface's value, as it also showed off a concept image of it being used in the health care industry.
Source: http://arstechnica.com.